After a bye week, and 2 weeks of being inactive Jabar Gaffney finally saw some playing time as a member of the Miami Dolphins. In his Dolphins debut he caught one pass for 30 yards, and also dropped a pass. It is obviously too soon to tell what type of production the Phins will get from Gaffney for the remainder of the season, but the sports betting strategy is that he can at least contribute.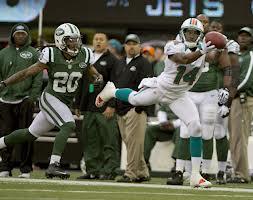 Last year Gaffney played for the Washington Redskins, and had career highs in receptions and yards with 68 catches and 947 yards. He also added 5 touchdowns, and this was done with scrub QB's such as John Beck and Rex Grossman. The sports betting strategy is that when he finally gets comfortable in the Phins offense, then RT or Moore should be able to benefit from the experience of the cagey veteran. I would assume that with each passing week his role in the offense will continue to expand and will give us the opportunity to use more 3 and 4 wide receiver sets.
In addition to Gaffney, it appears that Marlon Moore's role has quietly been expanding as well. He had a superb catch last game, and has so far tallied 4 catches for 83 yards and a touchdown so far this season on his 4 targets. He is another player that should continue to see his role in the offense expanding as long as he continues to perform. It appears that the coaching staff is beginning to trust him "Moore and More", and it is nice to see him responding positively to the added responsibility. The better teams in the league receive contribution from all players on their roster, and if Gaffney and Moore can do their part, this will be a major boost to the Phins playoff push. Yes folks a playoff push is clearly a reality this season!

Comment on Facebook
comments