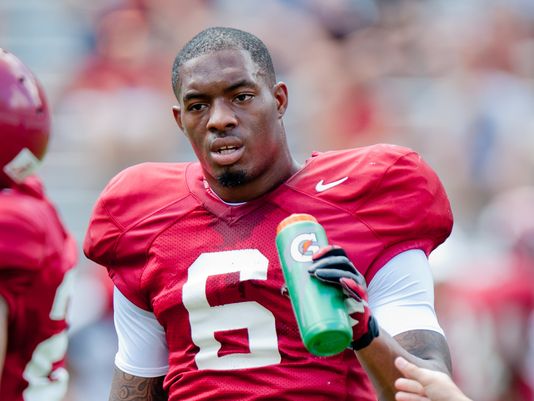 This off-season the Dolphins decided not to re-sign safety Chris Clemons, and he ended up going to the Houston Texans. Most sports gambling fans would agree, that Clemons was nothing special, and just another guy, who was a serviceable starter. In order to be a consistently good team each year, a team needs less serviceable players, and more solid play-makers. In order to fill the void left by Chris Clemons the Dolphins signed Louis Delmas, the Detroit Lions former safety. On paper Delmas appears to be an upgrade, however he is going to be a wild-card, because he has had some injuries, and from time to time he gets victimized by the deep ball, because of taking poor angles. If either one of these two issues persists then the Dolphins are going to be in need of another safety, and the last thing a team wants to be lacking in this pass-happy league, is safety help deep down the filed.
The number one ranked Safety in the upcoming draft is Haha Clinton-Dix from Alabama. He is 6'1", weighs 208 pounds and runs a 4.58 40 time. He had a solid combine, showcasing his smooth hips and good foot work, and showed that he is a natural center fielder that has a lot of range. Sports gambling fans are betting that he will get drafted in the late teens or early twenties.
Last season for the Crimson Tide, he racked up 50 tackles, 2 interceptions, and 4 passes broken up. And in 2012 he racked up 37 tackles, 5 interceptions, and 4 passes broken up and a forced fumble. The scouting report on him, is that he is very good in pass coverage deep down the field. Also due to his height he does well defending big receivers, and has the ball skills to pick off QB's. The one thing that has damaged his draft stock, was that he was suspended for two games during the season for taking a loan from an Alabama assistant, something that is obviously frowned upon, but nothing that should question his ability.
Once again the Dolphins will have a very difficult decision to make when their turn finally comes around in the first round, because this draft is extremely loaded with talent, due to a lot of juniors coming out early. So even if the Dolphins can not get what they need with the first pick, they still may be able to get a top ranked player at another position.
Comment on Facebook
comments