Philbin early favorite for coach of the year
Joe Philbin, was not even the Miami Dolphins first choice when they conducted their coaching search, however, after 7 games it appears that he was the right choice. It feels like yesterday when we were watching Hard Knocks, and seeing a team during the preseason that went 0-4 and appeared to be running around aimlessly on the field. Fast forward now to week 9 and the Dolphins are preparing for a big game in early November, that could have major playoff implications. Yes, I said it again, playoffs. This team is playing some very good football at the moment, and the result is a realistic shot at the playoffs.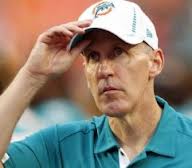 Before the season started the word playoffs would have looked Indian Sanskrit to phins news fans, but now thanks to a major improvement by Joe Philbin and his coaching staff, this team is beginning to turn some heads around the league. Philbin has come in and installed a west coast no huddle offense, and has sparked some life into this dormant franchise. He is not afraid to take calculated risks, and is coaching like a 10 year veteran, instead of a rookie head coach.
The Dolphins were a 7-9 team last year, and expectations going into this season were very low. However with some great coaching, all around improvement in all facets of the game, some luck with draft picks, and players staying healthy, this team has a winning record going into November. The really sick thing is that the Dolphins are a few made field goals away from being 6-1. There are some bright stories in the NFL this season, with the Falcons as the only undefeated team, and over exceeding expectations in Minnesota, Indianapolis, and Arizona. However, I would say, and this is not because I am a Dolphins fan, that what Philbin and his team have been able to do so far this year is the most impressive story in the NFL so far. If the season ended today, the wise sports betting strategy is that Philbin would win Coach of the Year by a landslide.

Comment on Facebook
comments