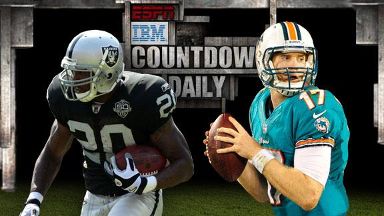 If the Miami Dolphins want to stop the Oakland Raider's offense they need to focus their attention on one player in particular; Darren McFadden. With the departure of Michael Bush this off season, and a receiving core that is on a similar level as the Dolphins receiving unit, the onus falls upon McFadden to carry the lion's share of the work load.
In the first game of the season last week, McFadden had 33 plays called for him, 15 carries and 18 passes thrown at him. The Raiders only ran 69 plays in the game, which means almost 50% of the plays revolved around McFadden. It does not take a rocket scientist to figure out that if the Dolphins defense can shut down McFadden, then there is a high probability that the Raider's will not score many points. Against the Chargers he ran 15 times for only 32 yards, however he was a menace catching balls out of the backfield with 13 catches for 86 yards.
The sports betting strategy is that the Dolphins stout run defense will be able to contain McFadden on the ground. But I am worried that our linebackers may not have the speed and talent to cover him coming out of the backfield on swing passes. The strategy on defense is to put a spy linebacker on him, that mirrors where ever McFadden goes, and make his afternoon a living nightmare. The positive spin is that the Dolphins have had no problem shutting McFadden down when they have faced him in the past. In two career games against Miami, he has 11 carries for 15 yards. The sports betting strategy is that the Dolphins d-line is just as good if not better than the Chargers d-line, and they should be able to limit McFadden to an after thought.

Comment on Facebook
comments